Educational ship visits and trips to some of the world's most sought after destinations are some of the perks of working at Hays Travel. Our Digital Coordinator, Natalie, recently visited Celebrity Silhouette, where she got to find out more about the ship and its most iconic features. She enjoyed it so much, we managed to convince her to be our guest blogger and here she tell us more about her Silhouette experience and how it changed her perception of cruising completely.
A day on Celebrity Silhouette
I was quite curious to find out what made cruising such a popular holiday choice. I had heard about the amazing facilities on board, but struggled to imagine how so much could fit onto one ship – and like many others assumed space would be limited. I thought that cruising wouldn't be the first choice for a holiday for someone of my age (25); however my perception completely changed after I stepped aboard Celebrity Silhouette. When the opportunity arose, I jumped at the chance! So off I went on my travels to Edinburgh, where I would embark the ship for a day visit to get a snapshot of life on board.
My first impression of Celebrity Silhouette was how spacious she was; which differed from my pre-conception that cruise ships run the risk of feeling claustrophobic. In fact, I felt quite the opposite. I received a very warm welcome and as I wandered around the ship, I found the fact that you could see the sea at almost every point very calming and truly unique. That in itself was almost enough to draw me into considering cruising as a holiday and in addition the dining options available were exquisite! The first striking area of the ship I visited was the Grand Cuvee Restaurant - this is the main restaurant and has a remarkable wine tower.

After a short introduction to the ship, the next stop was lunch. I enjoyed this in the Oceanview Café, where we were instantly greeted by the extremely friendly staff. This buffet -style restaurant had a casual feel and offered foods from around the world, from Mexican fajitas to Italian pizza and pasta, and a fabulous selection of speciality cheeses. I must say the quality was exceptional and better than any hotel I have visited on a land holiday. The highlight of my dining experience had to be the ice cream counter, with every topping you could imagine, and the richest caramel sauce I have ever tasted. The drinks menu also caught my eye and I was pleasantly surprised by the reasonable prices, certainly no 'expensive' prices as expected, a glass of wine ranged from $7 - $9.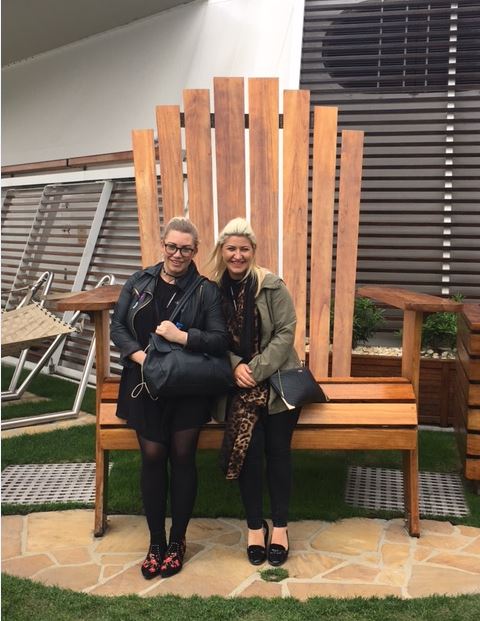 In the middle of exploring the dining options available on this ship, I was distracted by the shop windows of Michael Kors and Kate Spade – on-board, duty free, retail therapy!
The first bar stop was the Cellar Masters. I was fascinated by the automated counter where you can serve yourself from a wide selection of wines (any size you wanted). It was very cosy, it offered the type of atmosphere where you could definitely imagine yourself spending a relaxing evening sipping on a glass of fine wine.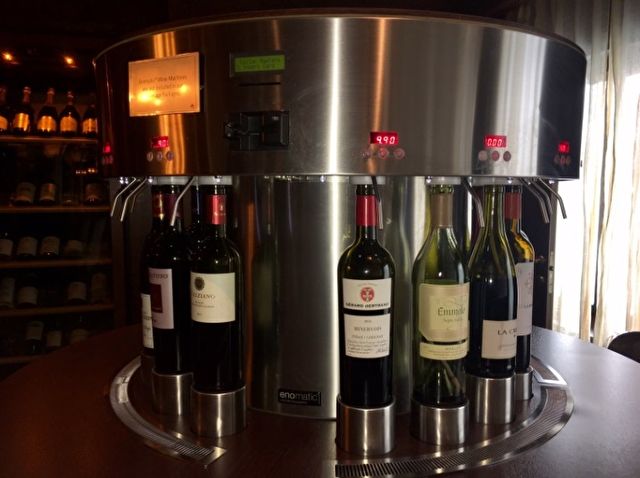 Next on our list was the Martini Bar - contemporary and modern. I thought I'd misheard when they told me there was 100 Martinis available to try and even more impressed that the master mixologists memorise every single drink on offer.
You could not miss the vibrant colours and lights of Quasar nightclub when passing. It was a very chic and funky spot, which held events such a silent disco and by day offered games consoles
.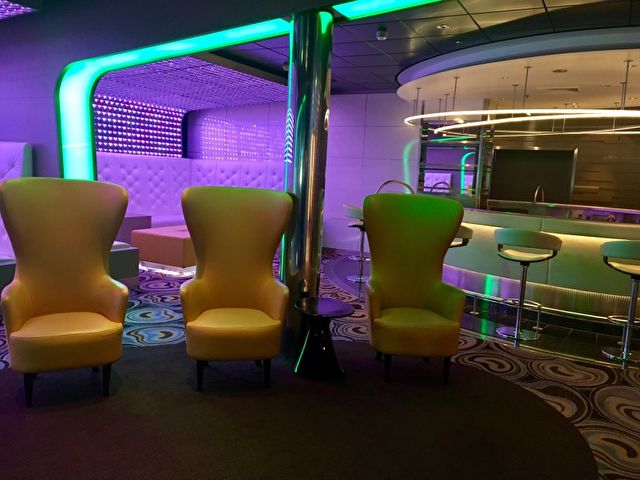 Even though I found all the dining venues we visited impressive, the most memorable area of the ship had to be Café al Bacio. The sweet and sugary aroma hit me before the cakes were even in sight. I wouldn't know where to start, but I would make it my aim to try every cake, pastry, and cookie on the menu!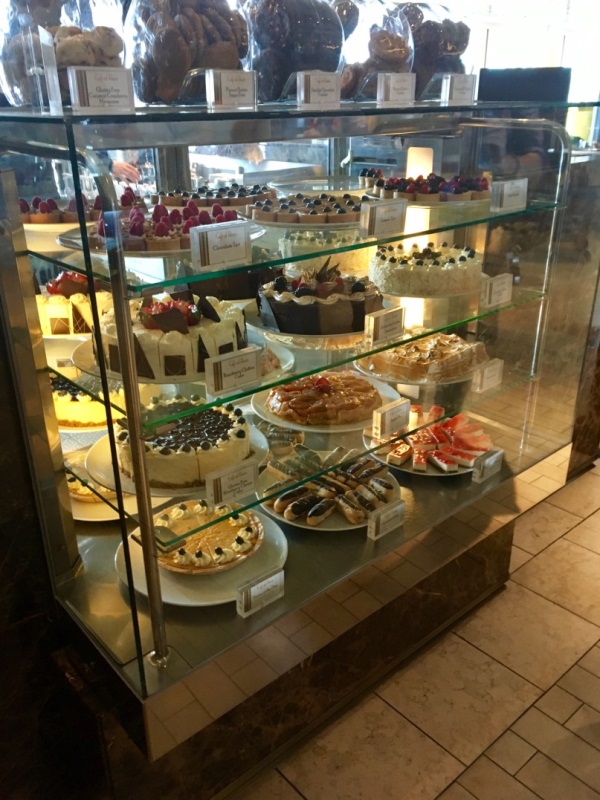 I managed to pop into the theatre, the size of which overwhelmed me, and I was lucky enough to catch a glimpse of the aerial acrobats practicing for their evening show, and wow I was impressed!
As I explored the ship further, I really started to feel the modern twist Celebrity Silhouette had to offer. Sushi on Five for example gives you the chance to have take away sushi that you can enjoy back in the privacy of your cabin.
Every lounge area, restaurant and bar had a different vibe, atmosphere, and décor. This was something I did not expect and made the tour even more exciting; you never knew what was coming next. So there is definitely something for everyone and every mood.
I must mention Murano, the most expensive speciality restaurant on board, but still very good value at $50. The menu of this contemporary French restaurant grabbed my attention. It would be a toss-up between the warm goat's cheese soufflé with a smoked tomato coulis and the wild forest mushroom cappuccino to start, and for the main the herb crusted lamb rack would be top of the list.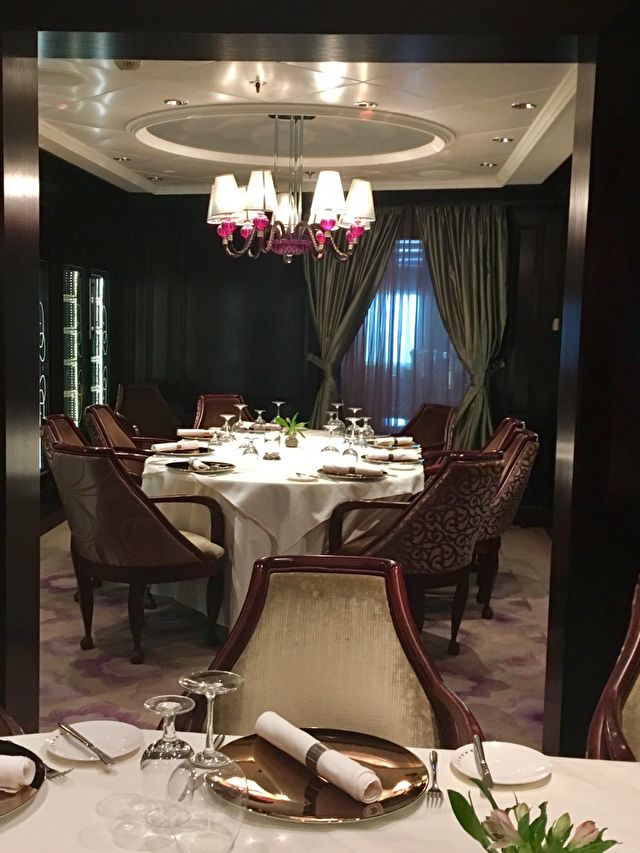 I would certainly be making a trip to the Italian-come-steakhouse restaurant; Tuscan Grille - as you can probably tell, I am a foodie, so checking out the restaurants was my priority! It had a very traditional and authentic feel - I've heard it's a popular one with guests on board, which doesn't surprise me as the view was outstanding.
At this point I had lost count of how many restaurants the ship had, however I was excited about the next dining option, Qsine. Here you can order bite-size dishes and all from an iPad. You just place your order when you're ready, which makes waiting time much shorter. The menu was slightly unusual – but the disco prawns sounded scrumptious! This seemed like the perfect eatery for a fun-food experience whilst on board.
The thought of relaxing on a picnic blanket under the stars with a strawberry daiquiri in hand popped in my head as soon as I found myself at the Lawn Club - half an acre of real grass on board.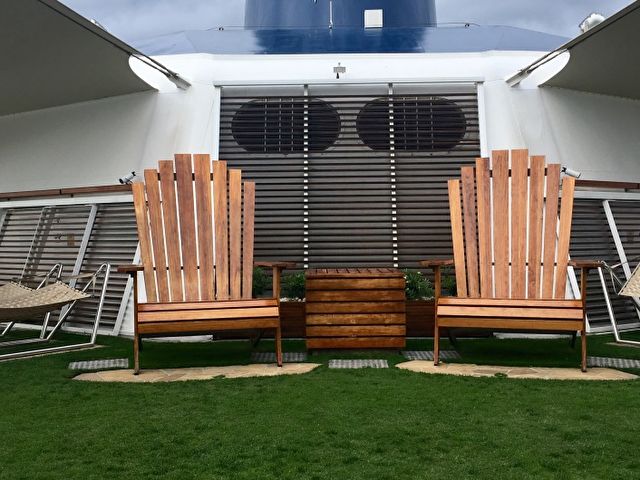 After passing the Sunset Bar and the Sky Observation Lounge, we landed at the pool area, and wow it was amazing. Four Jacuzzis corned the central pool. I was very impressed by the amount of sun loungers available and how they were situated to leave plenty of opportunity for sunbathing privately.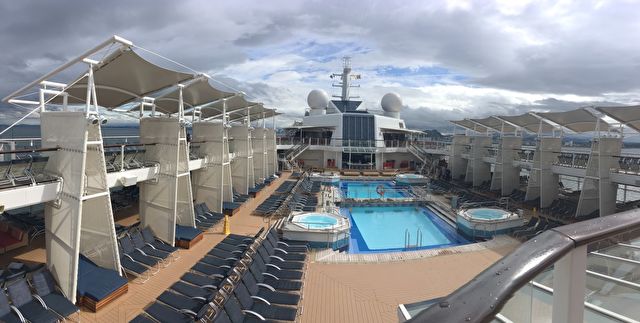 I couldn't believe there was still more to see, and then I entered the spa! I can't possibly forget the heated relaxation beds where you can sit back, relax and watch the world go by – I think this would be the perfect place to spend a relaxing morning whilst at sea.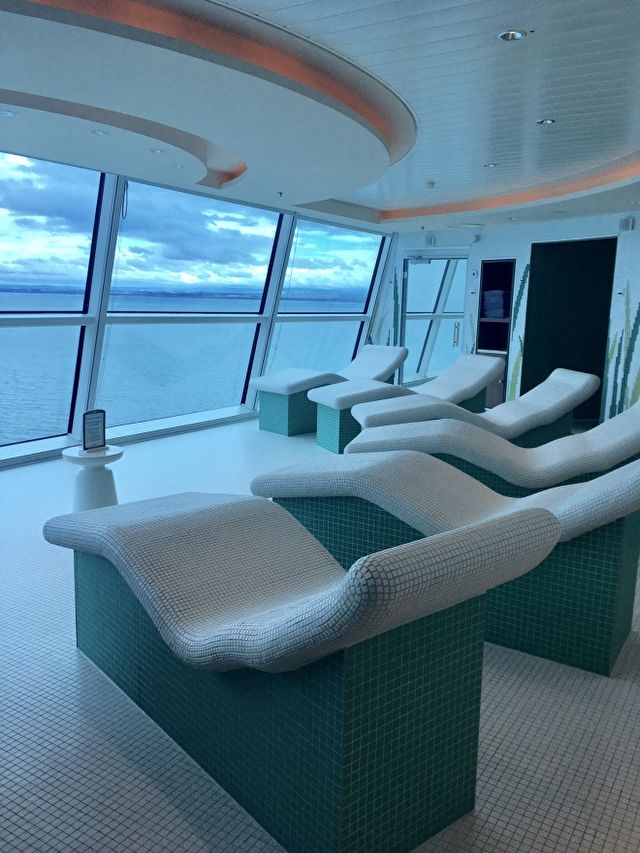 Finally, I ended the tour in the Luminae restaurant, for suite guests only, it had a very elegant and classy feel to it and perfect for a luxurious dining experience.

These are just some of the highlights of my quick tour around Celebrity Silhouette. I am sure if I have more time to explore I would have uncovered even more fascinating facilities on this ship, which is a destination within itself.
This has definitely opened my mind to consider a cruising holiday. What I took away the most from the experience is how modern cruising can be and that you have the opportunity to enjoy such a vast selection of activities, which wouldn't necessarily be available on a land holiday. It erased my stereotypical opinion that cruising is not the first choice for someone my age.