What an exciting time in the world of P&O cruises and for us here at Hays Travel.
Our very own Sophie from the Lymington branch has become a P&O Cruises Iona Ambassador!
Ahead of the launch of their new ship Iona in 2020, P&O Cruises ran a competition looking for six agent ambassadors. Entrants had to submit a video stating why they should be chosen to be an Iona Insider. Out of hundreds of entries Sophie was shortlisted to fifteen before being chosen as one of the six lucky winners! Well done Sophie!
After her trip to Norway we caught up with Sophie to scoop the low down on what it means to be an Iona insider and her trip to the Norwegian Fjords.

First and most importantly what made you apply?
"I wanted to be a part of the Iona's journey & thought this would be the perfect opportunity. I was nervous about doing a video for the entry but my colleagues encouraged me and I'm so glad I did!"
Good things happen outside of our comfort zone right? So why do you think your video stood out?
"I tried to make it as funny as possible. My colleague Alice built a cardboard Iona Ship which took centre stage."
We can see why you won! How does it feel to be chosen for this once-in-a-lifetime experience?
"It feels amazing to have been chosen for the opportunity and I'm very grateful for it too. "
Let's dig a little deeper into what being an Iona Ambassador entails.
"It means that I'm a representative of Hays Travel and when I find out the inside information on Iona I shall announce it so everyone at Hays Travel can see it and share it with our fantastic customers!"
We understand that you have just got back from the Norwegian Fjords with your fellow insiders. What was your favourite part of the trip?
"The best part of the trip was doing all the activities on the second day; we went kayaking, on a RIB boat, cray fishing and on troll cars up the Briksdal glacier."
Wow! And we need to remember that these are all excursions that anyone on the voyage can take part in.
What did you learn whilst sailing the seas?
"I learnt lots about the Norwegian Fjords, the different destinations that the cruises go to and also how a Fjord is actually formed, which is from a glacier melting, creating a v-shaped valley and the sea filling up into it."
Impressive. So Sophie, what's next in the world of a P&O Iona Insider?
"There's nothing booked at the moment but I know we will be going to visit the Shipyard soon to see Iona being built. I'm looking forward to actually sailing on Iona in 2020 and getting to see her for the first time!"
We can see why you can only describe your experience as 'wow, wow, wow' Sophie!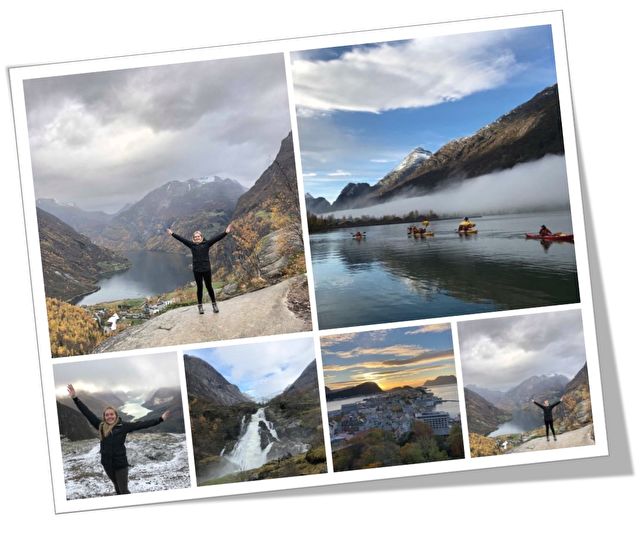 We can't wait to hear about Sophie's next dry land voyage! Make sure you keep your eyes peeled on our Hays Travel Cruise Facebook page to be the first to hear all about it!
Want to know more about Iona? Read all about her here!