Named after Saint Valentine, a Catholic priest who lived in Rome in the third century; Valentine's Day is held on the 14th February every year. These days, Valentine's Day is commonly associated with love and many couples choose to spend it with dinner, a picnic or a home-cooked meal. However, more and more people are going away to indulge in a luxury hotel stay in a beautiful location and spend some quality time together. We've headed up a list of five destinations that should definitely be on your list if you fancy a romantic break!
Santorini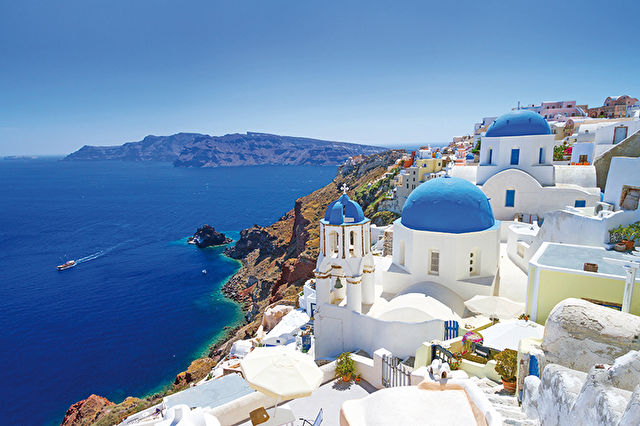 Shaped by a volcanic eruption in the 16th century, there's no denying that Santorini is unique. Its whitewashed buildings cling to the cliffs above an underwater crater. Wandering around Oia village is spectacular. This famous village is known for its quiet lifestyle, blue-domed churches and narrow streets. Go on a Santorini wine adventure in Fira and discover some of the most traditional and distinct winery cellars in the country. Wine production in Santorini dates back to ancient times, with 'Assyrtiko' being famous worldwide. Wine tasting is a must do here. However, if alcohol isn't your thing, but relaxation is, then head to the caldera for the volcano hot springs and mud baths. Located in the Aegean Sea, you'll have to take a short boat trip, hopping off 50m before shore and swimming onto the island. Enjoy splashing about in the mud and take a walk around the island before heading back. Don't worry about getting muddy, it'll get washed off on the swim back to the boat! Once you've arrived back on shore, put on your best attire and head out to sample some fresh seafood. The Volcano Blue Restaurant means you can eat in one of the best seafood taverns on the island whilst overlooking the volcano that you've just came from! Not to mention the use of Greek food and drink like feta and ouzo! Stay there and watch the sunset fall over the volcano, sheer bliss.
Montenegro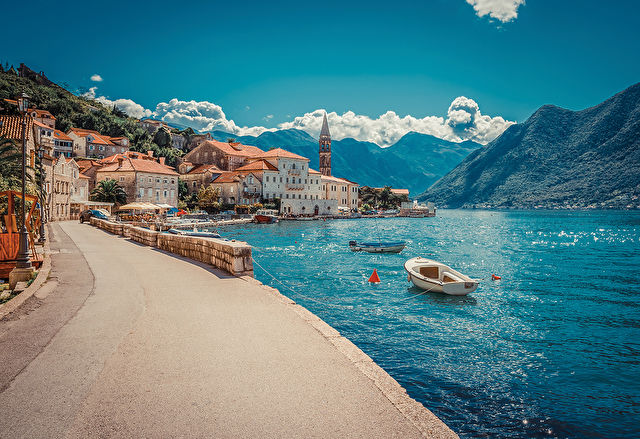 This country is becoming more and more popular and it's clear to see why. The mountains, beaches and larger-than-life locals make for a slice of Adriatic heaven. Wake up in a mountain chalet and enjoy the stunning Durmitor National Park. Here you can take in the smells of the pine trees and experience some of the world's most beautiful mountains. You won't be short of them to stroll hand-in-hand on either, with over 23 to choose from. Once you're done exploring, Herceg Novi awaits; a beautiful town with thick greenery and stone buildings. Nicknamed 'the city of sunshine' for its almost constant sunlight, you'll be dazzled by the sparkling seas and bright flowers. The Savina Monastery is one of three churches near the city in the bay of Kotor. It is set in one of the most beautiful parts of the northern Montenegrin coast – the bay of Boka Kotorska. Speaking of Kotor, this old town is a UNESCO world heritage site. With its beautiful cobbled stone streets and squares, churches and mountainous backdrop; it really is the jewel in the Montenegrin crown. For what it lacks in sand, it makes up for in elegance – although it still has plenty of good sunbathing spots. Montenegro has everything you need for a romantic break: beaches, lakes, rivers, mountains and natural beauty. Join the growing number of people flocking there!
Salzburg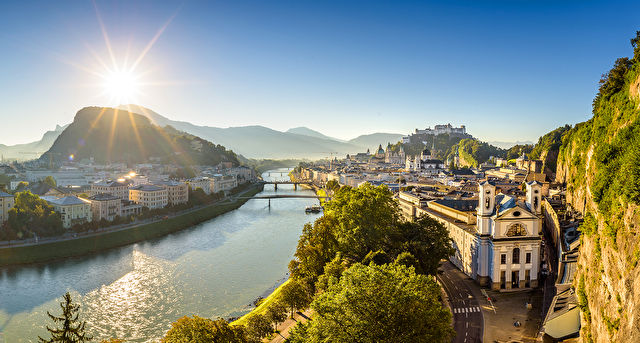 Salzburg's famous baroque architecture makes it one of the best preserved German-speaking city centres in the world. Birthplace of Mozart and the home to The Sound of Music, music is an important part of Salzburg. It's no surprise that the music of Wolfgang Amadeus Mozart plays a prominent role, with orchestras taking you on a journey. Enjoy a trip to his birthplace, which is now one of the most frequented museums in the world! Once you've finished exploring the original certificates, letters and portraits of the musical genius's life, take a walk to the Staatsbrücke Bridge. You'll notice that a bit like Budapest and Bruges, there's a pretty impressive collection of padlocks or 'love locks' as they're now known. Get yourself a padlock and scribe yours and your partner's name or initials onto them and lock the padlock to the bridge. It'll be there for eternity. The best thing about the bridge isn't actually the bridge itself, it's the view of the river, cathedral and castle. You don't even need to be on the bridge either… grab a picnic and sit on the banks of the Salzach River. If you time it well, you'll even get to see the sunset.

Lake Garda

Italy's largest lake and popular holiday location, Lake Garda is set about halfway between Milan and Venice. Up in the north, the lake is narrower and surrounded by mountains and is fairly breezy. The south however is much flatter and wider with an array of vineyards producing world-renowned wines. Aquaria Thermal SPA lies on a unique spike at the bottom of the lake. Experience pure relaxation, using 700 square metres of thermal water with swimming pools, hydromassage, effervescent beds, saunas, steam baths and sensory showers. Treat yourself and a loved one to a massage or treatment and truly unwind. Want some incredible views? The cable car at Monte Baldo offer just that, with cabins that turn 360 degrees during the ride! The top one is located in Tratto Spino at 1780m high. The landscape view from the cabin is simply amazing. Back down at ground level, the Grotte Di Catullo ruins occupy two hectares of Sirmione's northern tip. The remains there are of one of the largest residential villas in northern Italy. You'll find a small archaeological museum with exhibits from Sirmione and the lower Lake Garda area. Learn about the healing power of the thermal waters and why ancient Romans resided there. This is a truly spectacular destination with lots to discover.
And one obvious one...
Paris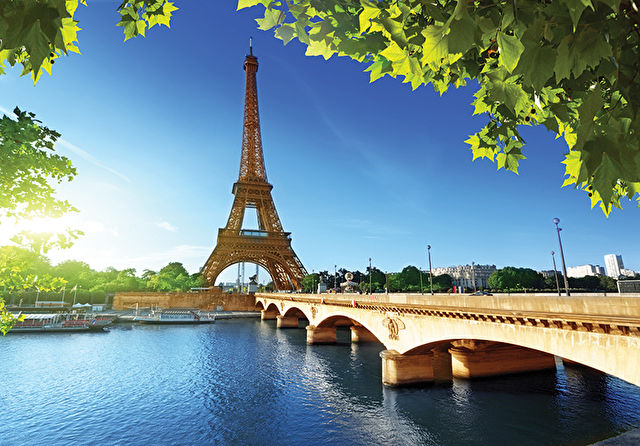 Now this one may seem cliché, however, no list of romantic destinations is complete without Paris; a city filled with flowers, chocolates and champagne. Couples from all over the world flock to the Temple de I 'Amour (Temple of Love) to propose or renew their wedding vows. Standing on a little island in the middle of the Versailles field; the entire temple is sculpted from marble and is home to a statue of cupid. Once you're done, head back and rent a Citroen 2CV. Explore (at your own pace), authentic France in the most nostalgic way possible. Drive to a picturesque picnic spot and experience Paris like the locals! If picnic food isn't for you, then grab yourself a Pink Flamingo Pizza takeaway. Pick a place to sit by the Canal Saint-Martin and you'll be handed a pink balloon which is used as a beacon to locate you on the canal. There you will wait to be presented with fresh pizza! The side of the box reads 'pas comme les autres' which means 'not like the others'. A very bold claim from Pink Flamingo, but an experience you won't forget. Then there's the Eiffel Tower. Head to the second floor and enjoy a unique panoramic view of Paris. The Jules Verne Restaurant offers modern French cuisine combining unique visuals and a sensational culinary setting. All in the name of love.