My trip to Barcelona!
As a football enthusiast, the lure of going to see one of the world's biggest football clubs finally got too much and I had to give in and get myself to Barcelona. But don't worry if you're not a fan of football… there's plenty more in this blog!
Me and my friend Gil (sounds like hill but spelt with a G) landed in Barcelona late evening. We hopped off the aeroplane to fairly mild temperatures (12°C). In comparison to Newcastle, it felt like a dream. We walked along to the subway terminal (having already bought our travel passes online - definitely recommend) and jumped on board to make our way to the centre of Barcelona. The journey was around 30 minutes but fairly straightforward in terms of changing at stops.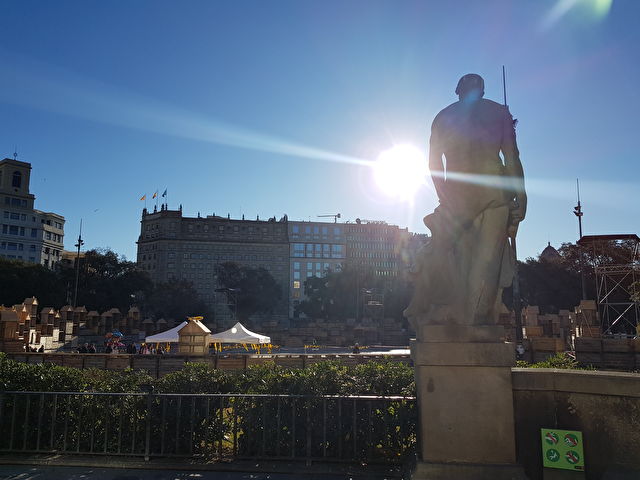 Our hotel was around a 20 minute walk to the Plaça de Catalunya. This is the large square in central Barcelona that's surrounded by shops. Here is where you'll find the main underground station. We walked down past the Hard Rock Café and to La Rambla. Mind you, La Rambla is HUGE. A street lined with trees stretching for 1.2km. It's got everything from restaurants and shops to street performers and markets. If you head directly to the bottom of La Rambla, you'll find Columbus Monument. Just past there is a really nice shopping centre, aquarium and cinema (hope you're fluent in Spanish!) The marina is phenomenal, and considering it was the middle of December, it was still obviously warm enough for the people rowing in their boats.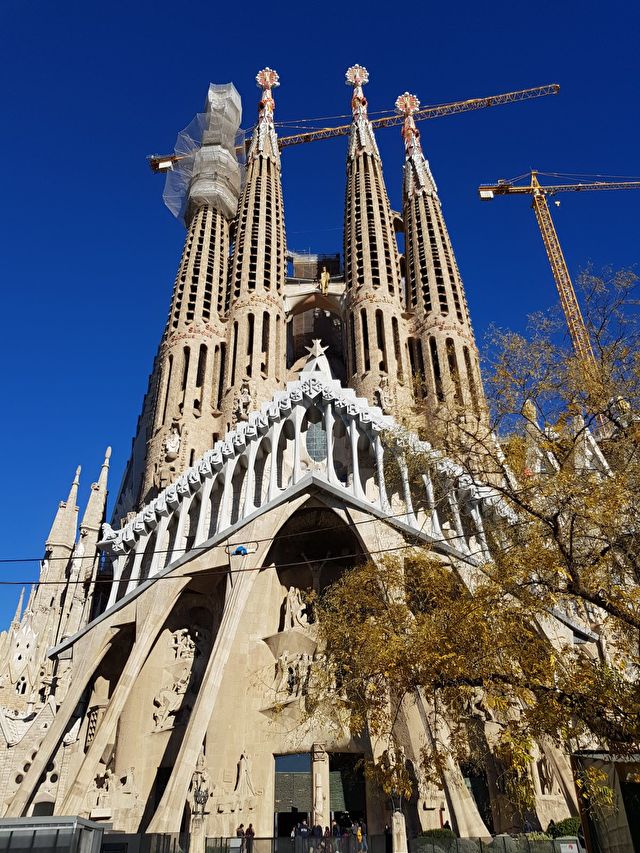 As we were already out and about browsing the city, we didn't want to miss one of the most famous sights of Barcelona; the Sagrada Familia. I'm not kidding you, it's absolutely huge. It's one of the most beautifully sculpted structures I've ever seen in my life. We wanted to go inside however it was completely sold out all day, so it may be worth booking in advance if this is something that would tickle your fancy. It's mad to think they started building it in 1882 and it's still not finished… must be all those siestas holding up the work! It's meant to be another eight years until it is finished, so maybe another trip to see it finished is needed.

After we went back to the hotel to refuel and have a cheeky dip in the rooftop Jacuzzi, we headed back out to get ice cream at a place I'd been recommended. Eyescream and friends is down by the marina and definitely worth a visit. It serves shaved gelato ice cream in a number of flavours. Then you pick two pots of goodies to whack on the top of it. AMAZING! I got cheesecake flavour with Oreos and toffee sauce. Not to mention the two little candied eyes to make your ice cream look like a monster. Kids will love it, just look at that picture below!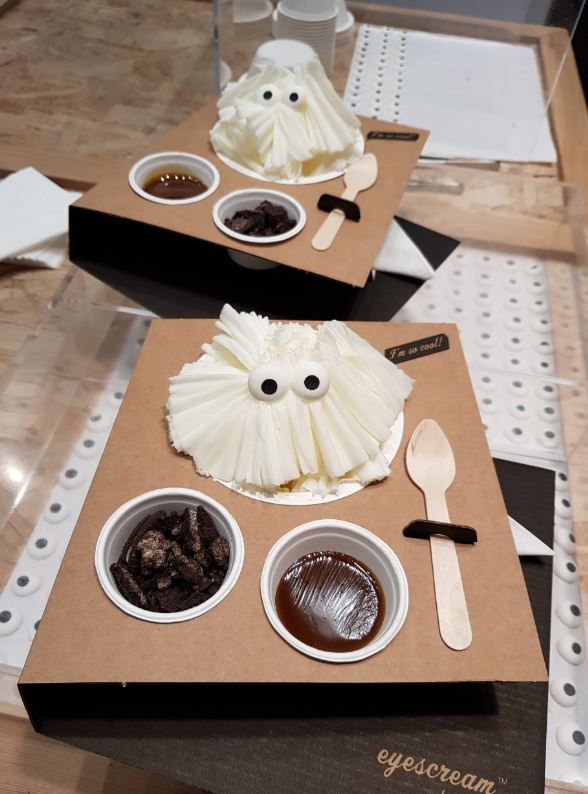 As it was getting dark, we headed over to see the Magic Fountains. These dancing waters use light and sound to perform to the music. HUNDREDS of people gather every night, so if you want a good spot you're going to have to get there early. It's a very impressive sight. Just down the road there's a shopping centre. Arenas used to be a former bull ring, but now you'll find 115 shops, a fitness centre, spa and a cinema. If you head straight up to the top floor, there's a 360 degree view over the city and Monjuic. The top floor is also home to lots of restaurants and an event centre. We went inside the event centre and there were a lot of boutique stalls offering unique clothing and goodies.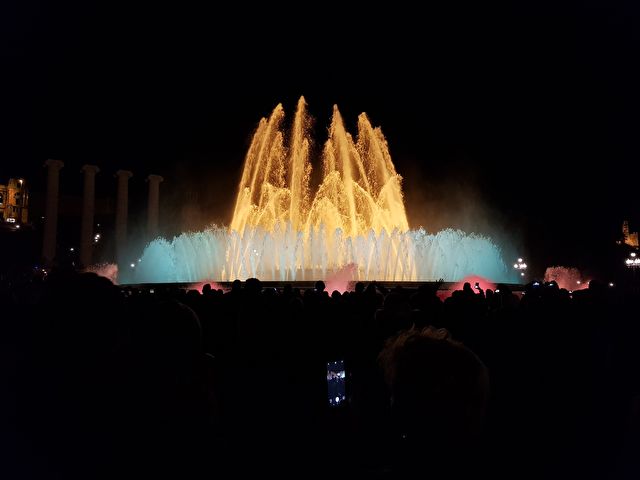 As we didn't really fancy anything to eat while we were there, we jumped on the sub and headed back to Plaça de Catalunya. It's a good job we didn't find anything too, as we found TGB (The Good Burger) and had the most amazing, juicy, delicious, incredible, flavoursome, delectable burger with sublime cheesy fries. As you can tell… it was alright.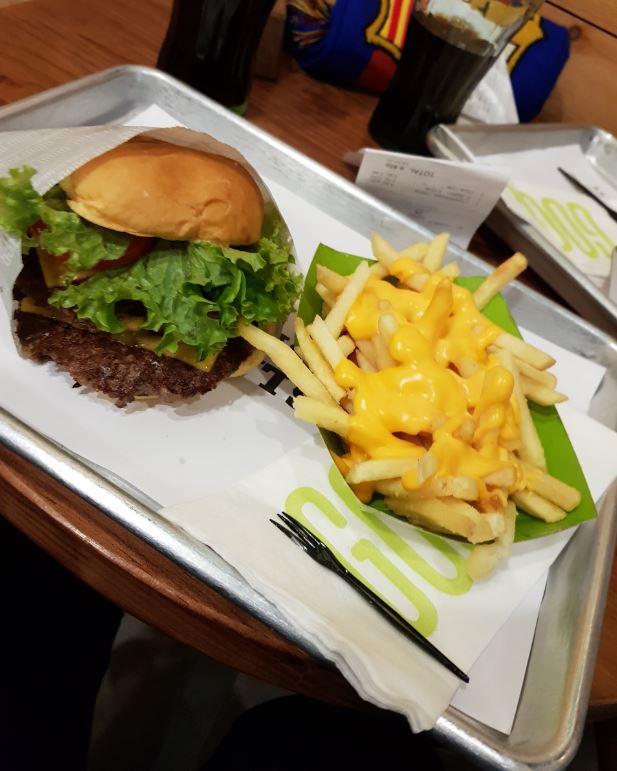 The next day was the biggie; THE MATCH WAS TODAY. Today was the day I'd get to see Messi, Suarez, Iniesta and the whole of the Barça team. I was hoping and praying that I hadn't come all this way for a lousy 0-0 draw. We headed to the stadium by subway and got some tapas before the game. We waited outside the ground in anticipation of the doors opening. Finally we got to the gate to get into the Camp Nou. Up the stairs… there are a lot of them. Out into the stands. OH THAT'S HIGH. REALLY, REALLY HIGH. Oh, and we're sat second row, are we? Lovely. Sensational view of the pitch though. There's no one around… might as well get the obligatory picture of me standing in an empty football stadium, showing the almighty size of this place…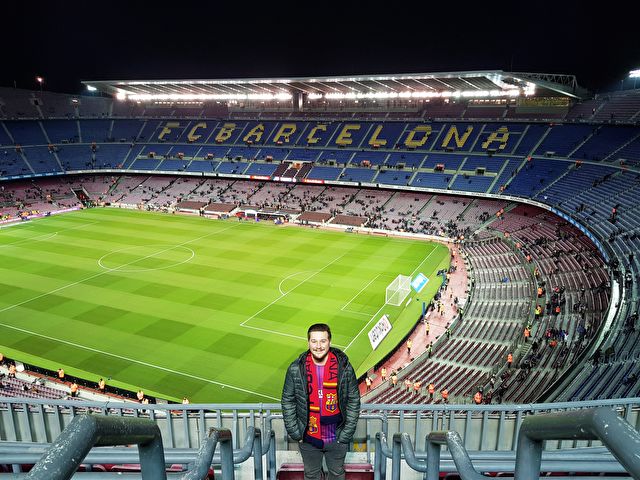 The atmosphere was incredible, and although the ground was only half full there were still 51,756 people watching. We even got to see Lionel Messi parade his fourth Golden Shoe trophy – a trophy given to the leading goal scorer in league matches of every European national league. I shouldn't have worried about the match result, as it ended 4-0 to Barcelona. Getting back from the Camp Nou was fairly straightforward; we jumped back on the subway and didn't have to wait too long either!

On our last day, we headed back down to the marina to do some last minute sightseeing. Walking down La Rambla we had seen a billboard which said €12.95 for two tapas and a main dish, which could be either pizza or paella. It was quite nice sitting outside in the cold with a patio heater keeping us warm while we ate our food. After that we grabbed our bags and headed back to the airport to catch our flight back to an extremely cold England. You can definitely make your trip as relaxing or as busy as you wish. Sitting outside watching the bustle of La Rambla, or being part of it, is simply one of the best experiences that Barcelona has to offer. One I would certainly recommend.